The IMO accelerates net-zero GHG emissions strategy for international shipping
12.07.2023
2 min
(Lysaker, Norway, July 12th 2023) TECO 2030 (OSE: TECO, OTCQX: TECFF, ISIN: NO0010887516) reflects on The International Maritime Organization's (IMO) revised Greenhouse Gas (GHG) strategy. The IMO adopts an accelerated GHG Strategy for reaching net-zero GHG emissions in international shipping by or around 2050. The strategy presents an ambitious roadmap for reducing shipping's contribution to global GHG emissions, underscoring the industry's commitment to environmental sustainability.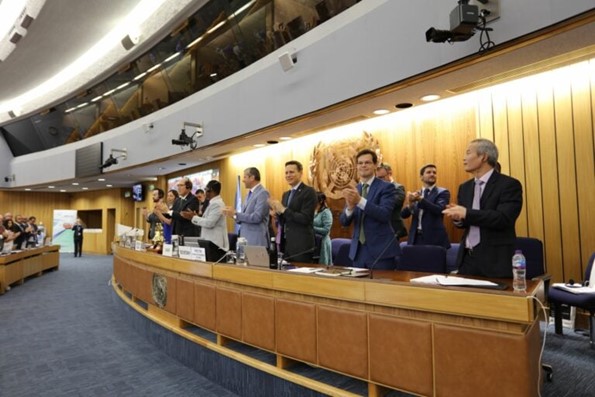 In this landmark decision, the IMO, the UN agency responsible for regulating shipping, has recently announced a comprehensive revision of its GHG reduction strategy, designed to combat climate change and align with global sustainability goals.
"This is fantastic news for the future of the global shipping industry as IMO adopts an accelerated strategy for cleaner shipping in the years come with an ultimate ambition of achieving a zero-emission future. There is no doubt that fuel cell technology will play an essential role in achieving the revised targets set forth by the IMO," said Tore Enger, Group CEO, TECO 2030. "This proves that the industry has to stand shoulder by shoulder in solving the largest challenge the industry has faced to date by eliminating harmful emissions while freight volumes are increasing. TECO 2030 is ready to deliver purpose developed fuel cells for the marine industry from 2024, with large volumes from 2025" Enger adds.
Fuel cells are hydrogen engines which generate electricity through a mechanism that doesn't require combustion. This means they produce fewer pollutants than conventional, combustion-based power generation technologies. Fuel cells are also highly efficient, producing more power per unit of fuel when compared to fossil fuel. As a result, fuel cells offer an alternative to  traditional power generation with significant health, reliability, and environmental benefits. TECO 2030 is currently establishing themselves as a marine and heavy-duty fuel cell manufacturer and building up Europe's first fuel cell Giga factory in Narvik, Norway.
"The adoption of the 2023 IMO Greenhouse Gas Strategy is a monumental development for IMO and opens a new chapter towards maritime decarbonization," says IMO Secretary-General Kitack Lim.
The IMO is the United Nations specialized agency with responsibility for the safety and security of shipping and the prevention of marine and atmospheric pollution by ships. The IMO's primary purpose is to develop and maintain a comprehensive regulatory framework for shipping, and its remit today includes safety, environmental concerns, legal matters, technical cooperation, maritime security, and the efficiency of shipping.
If you are interested in learning more about the GHG strategy, IMO's press release and full report can be found here.
Keywords
shipping
Hydrogen
fuelcells
Cristian Skajem, Head of Communications, TECO 2030 ASA
Subscribe to TECO 2030 ASA
Subscribe to all the latest releases and announcements from TECO 2030 ASA by registering your e-mail address below. You can unsubscribe at any time.